What is Vernier Caliper?
Vernier Calipers are widely used in automotive industry for measurement of various parts. The old caliper looks like a tomahawk with the scale dawn its length. A measuring instrument consisting of an L-shaped frame with a linear scale along its longer arm and an L-shaped sliding attachment with a vernier, used to read directly the dimension of an object represented by the separation between the inner or outer edges of the two shorter arms. Likewise micrometer screw gauge, the Vernier Caliper is used to take the measurement that are accurate to within 0.001 of an inch or 0 .02 of a millimeter or in other words its used to make very accurate measurements which cannot be accurately measured from a meter scale. The Vernier Caliper is a precision instrument that can be used to measure internal and external diameters of small tubes, depth of given vessels, diameter of thick wires, etc. It has two scales, one is the vernier scale and the other is the main scale. The vernier scale is also called the sliding scale as it slides on the main scale, which is fixed.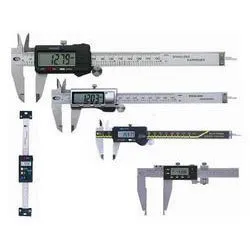 Supplier of Vernier Caliper
The vernier scale on it is marked in both British Imperial and metric divisions. The length is read from the vernier scale. The movable scale on the Vernier Caliper is parallel to the fixed scale. The main scale of the caliper is divided into 10 parts, each equal to 0.100 inch. The area between the 0.100 marks is divided into four. Each of these divisions is equal to 0.025 inches. To read the caliper, locate the line on the main scale that lines up with the zero(0) on the vernier scale. If the zero lined up with the 1 on the main scale, the reading would be 0.100 inches. If the zero on the vernier scale does not line up exactly with a line on the main scale, then look for a line on the vernier scale that does line up with a line on the main scale.
We have a broad range of products for Ndt Testing Instruments, Vernier Caliper Supplier, manufacturer, distributor, supplier, wholesaler and dealer of Hyderabad, Delhi, Mumbai, Chennai, thane, Pune, Bangalore, Coimbatore, Cebu, Vadodara, Faridabad, Kolkata, philippines, south Africa, china, dubai, uae, japan, sri lanka, Malaysia, Qatar, Singapore, Russia, Vietnam, Taiwan and Canada etc